Alkohol und COVID-19
Hier finden Sie Broschüren, Flyer und Texte im PDF-Format.
Kategorie: Alkohol und COVID-19
Eine einzelne Datei können Sie unmittelbar durch Klick auf den Titel herunterladen.
Mehrere Dateien können Sie durch Klick auf das Kästchen neben dem Titel markieren und am Ende der Seite über den Button »Fortfahren« zusammen herunterladen.

Despite the efforts of bar operators and guidance from government, potentially significant risks of COVID-19 transmission persisted in a substantial minority of observed bars, especially when customers were intoxicated.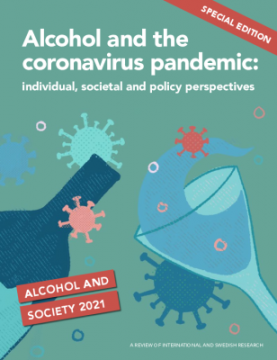 A review of international and Swedish research
Organisations initiating this report are voluntary or academic organisations independent of commercial interests.
SFAM is the professional and scientific college of general practitioners (family physicians) in Sweden with continuing professional development, training of future GPs, assessment of competence, quality improvement and research in general practice/family medicine as main areas of interest.
The Swedish Society of Nursing is a nonprofit organization and a forum for discussing and developing nursing care by promoting nursing research, ethics, education and quality in nursing.
IOGT-NTO focuses on the effects of alcohol and narcotics on individuals and society, but is also engaged in broad social and club activities.
The foundation Stiftelsen Ansvar För Framtiden aim to further Nordic cooperation and scientific research regarding sober life styles, public opinion in this regard, as well as care of children. The foundation have eight member organisations in three Nordic countries.
CERA is an interdisciplinary and collaborative centre for education and research into hazardous use, abuse and addiction at Gothenburg University – which works to strengthen and develop research and education in the field of addiction, and to disseminate scientific expertise to people working professionally in the field of abuse and addiction, and other interested parties.
The Swedish Society of Addiction Medicine works to promote research and education in the addiction medicine field, and professional development in all specialist care professions.
SIGHT is Sweden's research arena for global health equity with a focus on children and youth: a multidisciplinary tool-box to fulfill the 2030 Agenda.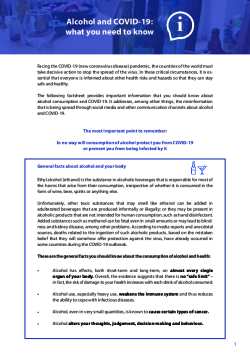 Facing the COVID-19 (new coronavirus disease) pandemic, the countries of the world must take decisive action to stop the spread of the virus. In these critical circumstances, it is essential that everyone is informed about other health risks and hazards so that they can stay safe and healthy.
The following factsheet provides important information that you should know about alcohol consumption and COVID-19. It addresses, among other things, the misinformation that is being spread through social media and other communication channels about alcohol and COVID-19.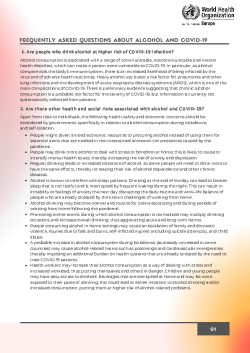 Alcohol consumption is associated with a range of communicable, noncommunicable and mental health disorders, which can make a person more vulnerable to COVID-19. In particular, as alcohol compromises the body's immune system, there is an increased likelihood of being infected by the virus and of adverse health outcomes.